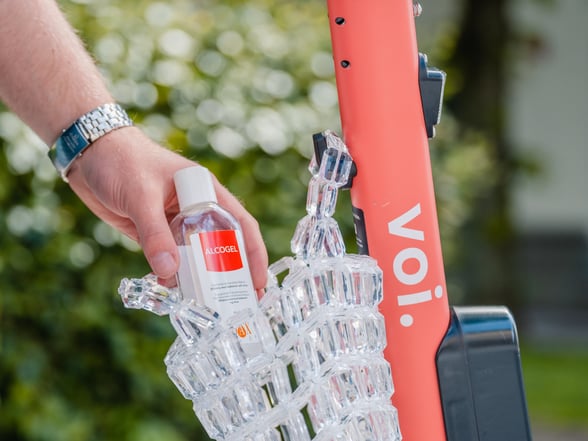 Photo by Christina Spinnen on Unsplash

Spring of 2021 is quickly approaching (for the northern hemisphere) and brings with it more change than most years. With COVID-19 vaccines rolling out at a steady pace, a new White House Administration, and summer quickly approaching, the micromobility industry is poised to experience a boom in activity.

What does that mean for cities, residents, and visitors? Read on to find out.
Good news! Vaccine distribution has begun
With a
recent announcement
that America is on track to have enough vaccines for every adult by the end of May and other countries well on their way to vaccinations, people are starting to look to a future that calls for more travel — whether it's the commute to work or a trip to a friend's house.
Cities will also see an increase in tourism as regulations loosen up and people become more comfortable with travel. One can expect micromobility numbers to rise as tourists begin visiting cities, as they often see micromobility options as a fun way to see a city and get around without needing a car. As people start making more trips around town for these various reasons, cities should prepare to meet demand by raising shared mobility vehicle numbers.

We encourage cities who do not yet have a micromobility program to consider one, as some people will likely feel safer using an open-air shared vehicle than public transportation at first. Cities who already have a micromobility program should prepare infrastructure to meet increased micromobility usage. Now is the perfect time to start implementing these changes, while most programs are still on pause or operating at lower numbers.
A Ride Report
blog post
from last spring provides some recommendations of what city officials can do during this "down" time.
US Secretary of Transportation Pete Buttigieg was seen using bikeshare to commute to work in late February and instantly captured the excitement of the shared mobility community. Buttigieg is in the best position to make meaningful change to the transportation industry and he is already showing promising signs that he will advocate for micromobility and public transportation.

For cities, this could mean more grant opportunities to fund public transportation and micromobility projects. Buttigieg himself has promised to "support programs to align mining and fossil fuel workers with new well-paying jobs with strong labor protections in clean energy and sustainable infrastructure." This could mean bike lanes, scooter parking, and any other infrastructure projects that could make micromobility run more efficiently in your city.
Countdown to micromobility summer
With just months to go until summer hits the Northern Hemisphere, cities should prepare for the increase in micromobility usage that comes with improved weather converging with a decrease in COVID-19 cases.

People will be taking to the streets, using bikes and scooters to get from A to B. Operators will seek to increase their fleet sizes to meet this increased demand. In order to adapt to increased fleet sizes, cities should start planning infrastructure and policy now.
How to prepare your micromobility program
With all of the aforementioned factors, cities across the United States and globally should be prepared for a micromobility boom. Whether you are considering starting a program, or ramping up an existing one, there are steps you can take to make this boom as smooth as possible. Consider how you can use the data provided by e-scooter and bikeshare programs to make informed policy decisions and build the necessary infrastructure to help your program succeed.

Unsure of where to start? Here are some suggestions:
Consider ways to make your city streets people-friendly. COVID-19 introduced safe streets initiatives to many cities across the globe. How can these initiatives be continued and expanded once people return to work and traffic picks up again? Streetsblog USA has compiled a list of additional safety strategies that have been deployed by cities across the world.


Plan parking infrastructure. More scooters and bikes on your streets means they will be taking up more space. Strategically planned parking zones will help minimize the effect this will have on pedestrians and sidewalk space in general. Learn more about the importance of parking infrastructure from Smart Cities Dive.


Follow federal bills and legislature. Cities in the US should be prepared for the federal government, under Buttigieg, to introduce new funding opportunities for sustainable transportation infrastructure. Start working now to understand what your team might do to successfully apply for additional funding to support micromobility.


Be ready to ramp up quickly. Much like when micromobility was first introduced, demand for e-scooters and bikes will rocket as more and more businesses reopen. Anything you can do now to prepare for it will help you address this rise in demand as it comes.


Ensure program longevity with the right revenue model. A well planned fee structure can help micromobility overcome growth barriers by enabling cities to funnel money back into the infrastructure needed to sustain a program. As demand for shared mobility increases, so will the demand for improved infrastructure, and cities can use fees to make sure that they can fund the projects necessary for success.


Download our micromobility implementation white paper to learn more about what to consider when starting your program.
---