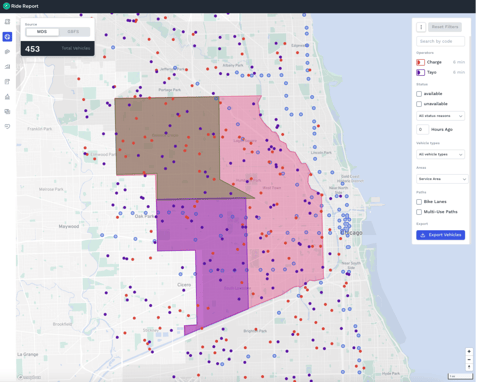 Ride Report dashboard. Image does not reflect real city data.
Ride Report Growth Manager, Dana Bacharach, spends her days talking to clients and prospects about Ride Report and what we do. Not only does Dana know our product and team inside and out, but she also has a unique understanding of why our clients love the Ride Report solutions. We asked her to share her insights on the Ride Report distinction.
What makes Ride Report different?
As someone who sells Ride Report day in and day out, I spend most of my time listening to prospects and customers — hearing what they like, don't like, why cities pick us and, more importantly, choose to stay with us. A few things have stood out to me about what makes Ride Report different:
Our customer success and responsiveness. Ride Reporters care. There is a culture of "yes" and wanting to collaborate to solve problems as quickly as possible. Engineers want to help sales and customer success, and likewise customer-facing teams are keen to understand our backend. Recently, when a new customer wanted some additional metrics in the dashboard, and we couldn't figure out exactly the correct calculation, engineering jumped at the idea to hop on a call with our customer to speak with them directly. When a customer question or issue comes through, someone is almost immediately paying attention to it.


We listen. Ride Report started as the Ride App and has evolved over time to where we are today in large part due to

listening to our customers' needs and wants

. We meet every week to go over our "Customer Kneads" (we like bread?) and then map these requests to our product roadmap and engineering sprints. More recently, with a few product hires and organizational changes, we have been shipping new features multiple times a week, all with the goal of making Ride Report more usable.


Operators are our friends. Ride Report spends a lot of time cultivating relationships with our operator partners. Our product and business model couldn't exist without operators and we aim to work collaboratively with them to provide the most trustworthy data in the world to cities.


Finally, Ride Report is laser-focused on policy and compliance. No matter the shared mobility mode (e-scooter, moped, or car share) we want to provide the most accurate data possible. Cities can then easily understand if operators are in compliance with rules and regulations, and are enabled to make policies that achieve city goals.
As someone who works at Ride Report, I believe these differentiators are characteristics of an organization that cares both about what it's doing, and how it's done. I am energized and excited to continue to build this hopefully transformative product with my team.
If you are interested in learning more, shoot me an email to schedule a quick chat.