And, the future of shared bikes and scooters. The District has a track record of bike innovation and has led every phase of shared micromobility. DC's home to the first publicly managed bike sharing program in the US, and one of the most successful Shared programs in the world (based on trip volume, trips by vehicle by day, and route distribution).
Now there's a way to see for yourself. To celebrate the launch of DC's 2023 shared micromobility permit, we partnered with the District Department of Transportation to launch DC's Public Dashboard. Check out where people have ridden shared bikes and scooters, and the topline stats. You can break select by mode and by time.
The Dashboard's hosted on our Global Micromobility Index, a central repository of Dashboards from around the world. And, as it should be, DC is officially the 51st program on the Index and was announced shortly after the Statehood bill was reintroduced!


Now decisionmakers, advocates, researchers, reporters, electeds, and everyday people have access to DC's historical bike and scooter data, going back to 2019. At a city level, you can chart the changes in top metrics, start to see ridership patterns down to the street level, and visualize ridership stats to mobilize for better infrastructure.
Our hope is that this data will support the range of stakeholders working to transform our streets to be more human-centered, more safe, and more just. You can zoom in and hover over street segments to see what percentage of trips passed through the corridor, based on the time period and modes you've selected.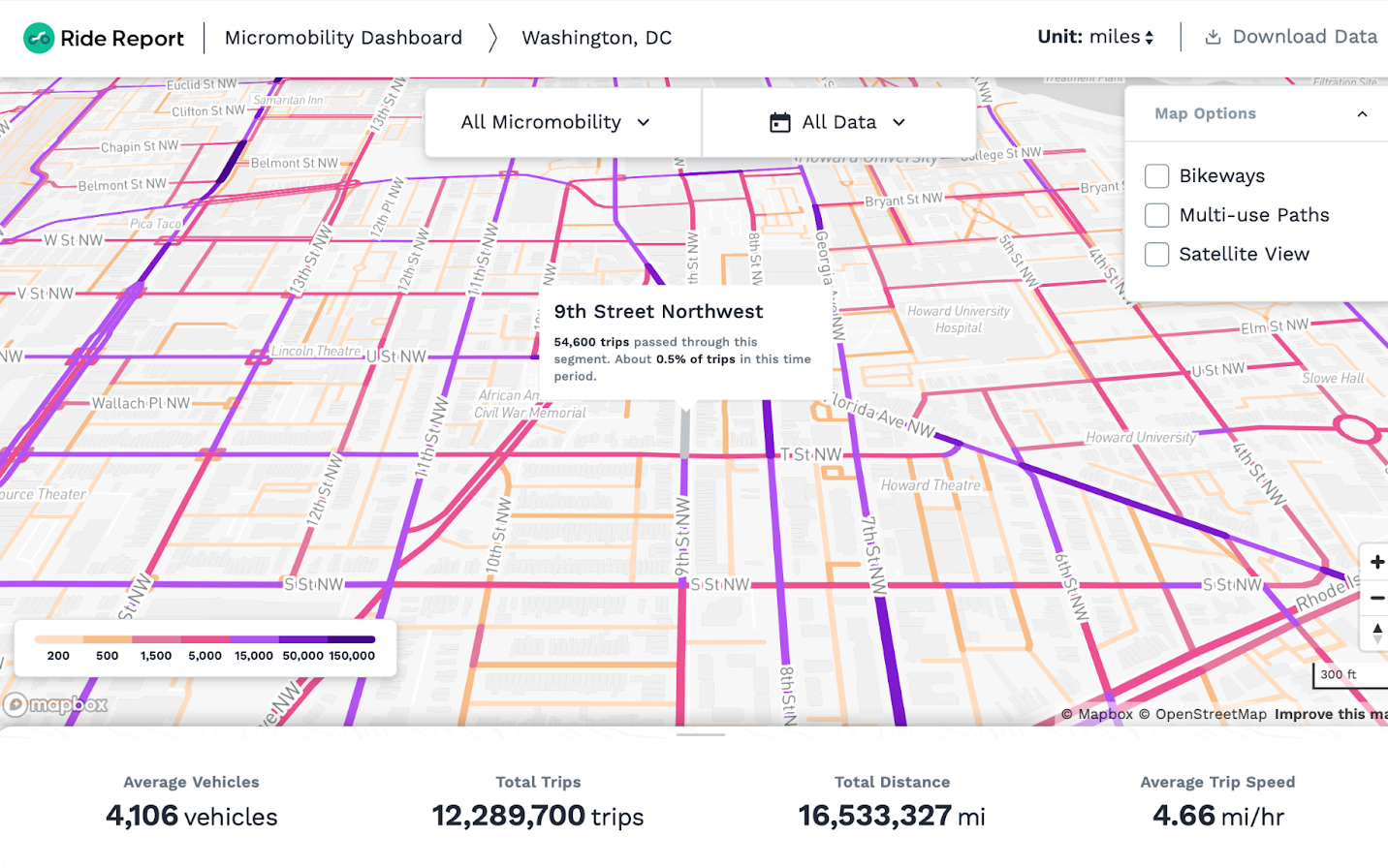 On the Index, you can compare program metrics across peer cities from around the world. We want to continue to help facilitate information-sharing across cities, to continue to advance key program elements, like service areas, fleet caps, pricing and fees, equitable rebalancing, and beyond.




To learn more about how Operators and City Staff made this dream of ours come true, check out our backgrounder on the Global Micromobility Index. And, if you've got questions, suggestions, or want to see your city added to the Index, please be in touch. And please keep sharing your observations!
Nearly 1% of all DC micromobility trips in Q4 passed through a popular area with a decent protected bike lane 🤯 pic.twitter.com/DHtbubhF3h

— @MarkSussman@thepit.social (@MarkSussman_) February 1, 2023