William Henderson co-founded Ride Report in 2015, launching the first mobility management platform when dockless micromobility was in its infancy. Under William's leadership, Ride Report grew from a bootstrapped startup to the industry leader with over 70 customers and 30 operator partners worldwide. William's work leveraged his expertise in regulation and financial technology, along with a passion for just and sustainable transportation. William strived to create a technology company that lives up to its responsibility of managing sensitive data and fostering an inclusive and supportive workplace.
After 8 years as Ride Report CEO, William is transitioning to board chair. As chair, William will guide the board and staff in shaping the next phase of the company. Says William, "Ride Report has successfully equipped public agencies with the best tools and data available, bringing them closer than ever to achieving my founding vision of safe and sustainable transportation. As a business, we hit cash flow positivity last year and expect to achieve profitability this year. After planning this transition for over a year now, our team is confident that this is the right time for me to move into a more strategic role, with a new CEO who is focused on what's next."
The Board selected Michael Schwartz, Ride Report's first employee, to become CEO. Michael's worn many company hats, from policy and customer success to product management and senior business lead. Since 2016, he's cultivated consistent, trusting relationships with Ride Report customers across North America, Europe, Australia, and New Zealand. Michael helped shape the platform's most impactful features, including policy management, fee calculations, and the industry's first Global Micromobility Index.
"William's vision for Ride Report and the passionate team he built to support global micromobility has been wonderful to be a part of. I am excited for their next chapter with Michael Schwartz's deep customer and city transportation expertise." says Sandhya Hegde, Ride Report board member and General Partner at Unusual Ventures.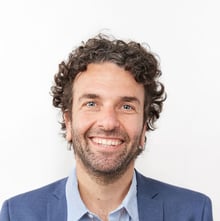 With nearly 20 years experience leading in the public, private, and non-profit advocacy sectors, across a range of mobility and infrastructure initiatives, Michael is positioned to lead Ride Report into the future of urban mobility. Says William, "I originally hired Michael for his passion and expertise in transportation planning and advocacy. Over six years, his leadership has become the heartbeat of Ride Report and I am thrilled for Michael and the company's next chapter."
Michael has an ambitious vision for Ride Report. "Ride Report already provides a platform to digitally manage and properly price the public right of way. Now we want to take the shared mobility playbook and use it across all modes of travel to help people drive less, enhance safety, and create economic resilience."
Throughout his career, Michael has had the opportunity to learn from and influence nearly every stage of new mobility; from the arrival of ride hail and station-based bikeshare systems to the wild west of dockless and the early trials of drones, e-trikes, and delivery robots. In the process, Ride Report has adapted to the challenges and helped normalize a mosaic of transportation solutions. The team is passionate and driven, already expanding our role from aggregating data and managing these solutions, to a role where our tools advance multimodal transformation. We are looking forward to a great 2023 and beyond.