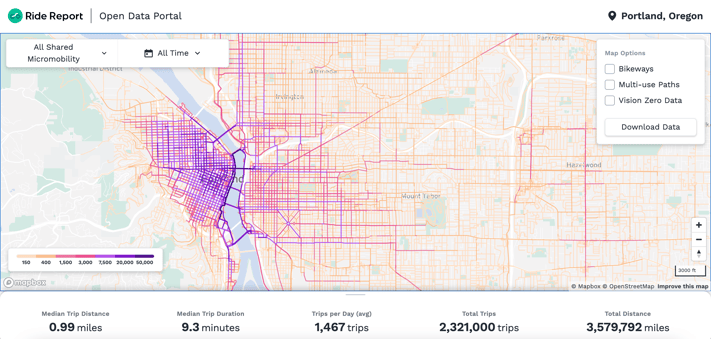 On December 16, 2021, Ride Report teamed up with Portland Bureau of Transportation (PBOT) to release its first Open Data Portal, a public-facing dashboard of mobility data. This dashboard allows public agencies to provide new levels of transparency to their micromobility programs, while also giving the public access to mobility related data. With no password needed to access these insights, there are almost as many use cases as there are people interested in new mobility. While we can't know all the ways in which the data will be used, this article from Bike Portland provides a few examples and we are already hearing from some third parties outside of traditional agency staff customers.
Safety research studies
Our public agency customers are often asked by academic researchers for access to their shared mobility data. Coordination with operators, data sharing agreements, and actual processing of the requested data can take weeks or months and involves significant effort from city agency staff.
With the Open Data Portal, information is right at the researchers' fingertips. It allows them to just download and go. A recent effort on scooter safety led by the Highway Safety Research Center at the University of North Carolina at Chapel Hill had a team looking to observe shared scooter and bike riding behavior. The research team prioritized specific locations for their observations based on scooter street segment volume data. Having this information available in the Open Data Portal will further streamline access to this information for similar cities and efforts
Transportation advocacy campaigns
For advocacy groups working on issues such as active transportation, equity, and mobility justice, the Open Data Portal provides unprecedented, immediate access to data to support campaigns and derive insights. Similar to the research example above, groups can spend a number of months coordinating with operators and agency staff on data sharing agreements, focusing on what can and cannot be done with the data. This takes time away from all stakeholders. By the time groups get the data, they can be rushed and near the end of their projects. The Open Data Portal eliminates that bottleneck.

For example, if there is a public meeting for a protected bike lane, advocates can get up-to-date insights on how a street is being used (or not) by micromobility riders. With better access to the data the micromobility programs provide, advocacy organizations are able to bring evidence-based arguments to support safer, more accessible, and more equitable streets.

These are some of the first use cases for the Open Data Portal. We are excited to watch as new uses emerge, particularly as the Open Data Portal launches in more cities.

If you are interested in an Open Data Portal for your community, please reach out to Michael Schwartz or fill out the form below.