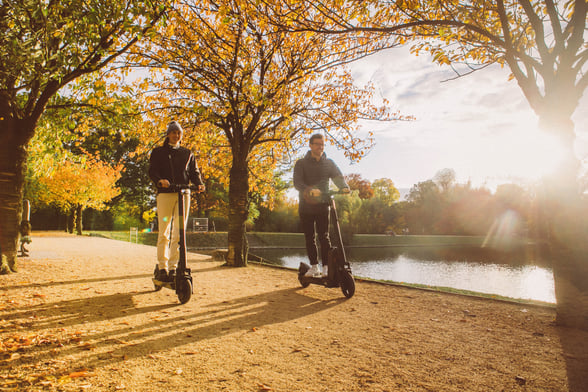 Photo by Okai Vehicles on Unsplash

Cities around the world are embracing micromobility as a sustainable and fun form of transportation. As e-scooter and bike-share programs emerge, many cities turn to official procurements to ensure they are able to work with the operators and third party providers that fit their unique needs. Writing a formal RFP can be time consuming, but a well-planned RFP will save you time and energy in the long run.
At Ride Report, we've helped many cities get their micromobility programs up and running successfully. Whether you're new to micromobility or are looking for third party services to enhance your already existing program, here are some considerations when working on your next RFP.


Identify your micromobility program stage and goals
Before you start drafting an RFP, it's important to understand the current status of your city's program. A not-yet-launched e-scooter program will have very different needs than a well-established program. If your city already has a successful micromobility program, maybe it's time to consider a third party company that can help you optimize your program, understand the data, and track fees.
Talk to your city colleagues and consultants
Meeting with your peers in other cities and municipalities can help inform your own RFP process. They can answer questions and share what went wrong and what went right when they released their own RFPs. Some questions to consider asking include:
What do you wish you knew before starting the RFP process?
What lessons did you learn along the way?
Is there any language that we can use in our RFP?
What do wish you had included in the initial RFP?
We recommend considering using parts or all of an RFP used by another city or agency (with their permission, of course). Not only will this save your staff time, but it also allows potential vendors to use the same proposal templates across multiple cities.
Listen to the data experts
At Ride Report, we know how trustworthy data can be used to maximize the success of a micromobility program. The ability to maintain privacy when handling sensitive mobility data is an imperative for any program. Cities need enough data to make informed decisions, but are also responsible for respecting the anonymity of individual riders.
It is also crucial that you are able to rely on the data you're collecting so you can make informed infrastructure and policy decisions. Trustworthy data is the backbone of a strong relationship between cities and operators, providing a single source of truth for all parties to align on.
You don't have to be an expert on data to make sure you have this covered; there are resources available to help with that. Check out our whitepaper, 4 ways cities can put micromobility data to work, to learn more!
Define your technical requirements
Once you have a good understanding of the high level structure of your desired program, it is time to start defining the requirements. What are the must haves and nice to haves? Make a list of the technical and project management requirements and differentiate between what is necessary and what is optional. We encourage cities to include enough requirements to meet your goals, while keeping it high level enough to allow vendors to submit innovative proposals.

Additionally, it is important to clarify the goal or reasoning behind the requirements listed in the RFP. This provides the vendors with the context needed to create an informed response that is catered to your unique needs. It also allows vendors to propose alternative solutions that may not meet the technical requirement, but ultimately address your goals.
Keep the RFP short

When it comes to the amount of content that a vendor can provide when talking about their solutions, the limit does not exist. If an RFP has no page limit, vendors may feel the need to include it all, which can make the evaluation process tedious as you try to score each proposal.

Setting a reasonable page limit encourages vendors to be succinct with their messaging and focus on the important requirements and key differentiators. This will lead to proposals that are easier to evaluate and more aligned with your unique specifications.


Align evaluation criteria with your micromobility needs

Do you have a very strict budget? Are there local laws or politics that will have a major impact on the operation of your program? What type of equity goals are in place for your city? These are all factors that should be considered when creating the evaluation criteria for your program. Most vendors base their response on the evaluation criteria, making it crucial for cities to clearly state how they are scoring the proposals.
Consider mutually beneficial pricing models

While having predictable revenue is appealing, allowing for alternative pricing models could benefit you and the vendor in the long run. Revenue share models can incentivize vendors to succeed by rewarding achieved goals. Some cities use revenue share models that discount rides that start or end in equity zones, encouraging operators to follow equity guidelines.

Need more inspiration for what to include in your RFP? Download our white paper on factors to consider when implementing a micromobility program.
---